Greenwashing emerging as major D&O liability risk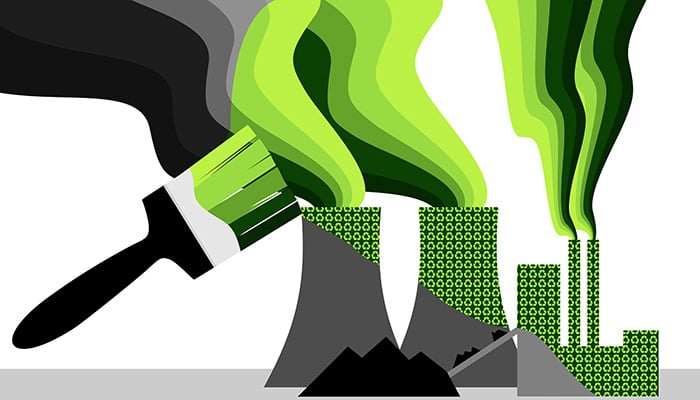 Greenwashing is emerging as a major source of liability for directors and officers as companies struggle to live up to environmental and sustainability credentials, experts have told Commercial Risk.
Making unsubstantiated or misleading claims about a company's environmental or social performance, known as greenwashing, is of growing concern to directors and officers, according to Adrian Jenner, head of D&O and cyber in London for Zurich Insurance. Changing attitudes towards sustainability and growing ESG regulation could drive a future wave of D&O claims as stakeholders hold companies and their directors to account for their environmental and social impact, he said.
Companies are under increasing pressure from institutional investors and other stakeholders to establish their 'green' or broader ESG credentials, added Simon Konsta, partner at Clyde & Co.
"We are already seeing allegations across a range of industries and in multiple jurisdictions that some companies are 'greenwashing' themselves or their products, and the pressure to appear 'green' combined with the requirement to provide more information could well lead to an uptick in disputes with regulators and with those who claim to have suffered loss as a result," he warned.
Investors, consumers and employees are increasingly basing their decisions on companies' ESG credentials, and are resorting to litigation when organisations don't live up to their claims.
A Dutch environmental group sued KLM in May claiming that the airline's 'Fly Responsibly' advertising campaign and carbon-offsetting scheme was misleading and amounted to greenwashing. Last year, New York City filed a lawsuit against three oil and gas companies alleging they misled consumers by selling fuels as "cleaner" and "emissions-reducing" while not disclosing their climate impacts.
These are just the latest in a growing number of so-called climate-washing litigations. According to a recent report from the Climate Social Science Network, there have been at least 20 climate-washing cases filed before courts in the US, Australia, France and the Netherlands since 2016.
Governments and regulators are also cracking down on greenwashing. The EU recently proposed a ban on greenwashing under amendments to its Unfair Commercial Practices Directive. The UK's Financial Conduct Authority has developed a set of principles to tackle concerns over false claims. While the US Securities and Exchange Commission has established the Climate and ESG Enforcement Task Force to proactively identify ESG-related misconduct.
Increased regulation is also being backed up by enforcement. In May 2022, police raided the offices of German asset manager DWS and its majority owner Deutsche Bank as part of an investigation into alleged greenwashing. Canadian coffee maker Keurig was recently ordered to pay a $3m fine after it made false claims about the recyclability of its packaging. Last year, the UK Advertising Standards Authority found Ryanair's low-emissions advertising campaign had misled consumers.
In January, the UK's Competition and Markets Authority launched a review of environmental claims in fashion retail. A recent study by the Changing Markets Foundation found that 59% of green claims made by major European fashion brands were unsubstantiated or misleading.
One of the most acute areas of legal exposure for any listed company is public disclosures through annual reports or at the time of capital raising, according to Konsta. And at a time of mounting consumer expectation and protection, ESG misstatements will constitute a real legal and reputational vulnerability, he said.
And there are knock-on effects for insurance, he continued. "Businesses that get it right will be much more attractive to insurers, both from a liability and an investment perspective. Carriers will need to exercise caution to identify those that stray into greenwashing, as the cost of association with those businesses could be high," said Konsta.
Rebecca Lowe, senior underwriter, commercial financial lines at QBE Europe, said it is "unsurprising" that companies are concerned about possible exposures from greenwashing. "In a study conducted last year, one in ten senior leaders said their company had already faced reputational risks or increased scrutiny on their ESG framework. This is part of an overall trend in which directors and officers have faced increased regulation and, consequently, litigation around the performance of their roles," she said.
Customers are particularly conscious about complying with ever-increasing reporting requirements and what could happen if they fall short of disclosed targets, said Lowe. In the UK, for example, the focus on ESG has, in part, been driven by increased disclosure requirements, such as the Taskforce for Climate Related Financial Disclosures (TCFD), she said.
"Whilst initially this only applied to premium listed companies, since 6 April 2022 this has widened to include larger public and private companies, those with over 500 employees and £500m in turnover. It is expected that most companies will need to comply with the TCFD by 2025, so there is a real urgency for customers and their auditors to understand the requirements," said Lowe.
Ambitious environmental goals, including net-zero targets, could also land companies and their directors and officers in court. CEO of Chubb Evan Greenberg recently warned that "vague words" promising net-zero targets would open the door to greenwashing litigation. He said companies that declare themselves on the path to net zero will need to disclose their progress to shareholders, even though they currently cannot accurately measure the carbon footprint of their investments and portfolios.
Misleading ESG claims made by any company, or failure to achieve stated targets, could result in litigation from multiple parties, including investors, pension funds, consumers and employees, explained Jenner. Legal defence costs for a single greenwashing accusation could potentially consume primary D&O insurance limits, he said.
"We foresee that as companies make more ambitious ESG commitments and disclosures, there are greater chances of these targets not being met, which can also lead to shareholder lawsuits. Many companies are stating lofty carbon-neutral goals or declaring other supposedly climate-friendly or social targets," said Jenner.
"It's difficult however for companies to demonstrate their progress toward their stated goals, which could in turn lead claimants, such as activist investors or government regulators, to challenge the companies on their statements," he said.
Companies need to be transparent with ESG but must not "overcommit or overpromise", warned Alex Davies, deputy head of management liability for  London market insurance at Sompo International. "That's where the risk of accusations of greenwashing comes in," he said.
"Sometimes, with the best of intentions, companies go out there saying they're going to do really well at this and then they fall short – suddenly there's a potential claim. It doesn't mean that they deliberately went out to deceive people. It's just about being realistic and transparent around what your targets are and what you're trying to do," Davies said.
"It is important to use a known or existing methodology to measure success with these topics. And be very wary if you're marketing yourself as a more ESG-friendly company than you are – you are putting yourself in the firing line," he added.
Compliance with ESG requirements is challenging because the metrics and technology for calculating targets are still relatively new and evolving, so there is real potential for error and consequently litigation, warned Lowe.
"While not yet compulsory, the calculations become even more challenging as customers look at Scope 3 emissions [indirect emissions, such those from suppliers or customers]. There, they will need to engage with supply chains and their customers to understand their emissions. This is a huge and time-consuming task for many companies, adding to the risk of miscalculation," she said.
For many companies, achieving carbon reduction targets might depend on technology or innovations that are still in development or do not yet exist, said Lowe.
"This increases the risk of a company falling short. Alternatively, if a marketing campaign is used to focus on a company's green initiatives, this needs to be an accurate reflection of the business or product itself. If targets are not met or green credentials are overstated, then it is likely that litigation will follow," she warned.